Cong. Albee in a Dialogue with Tulong-Dunong Grantees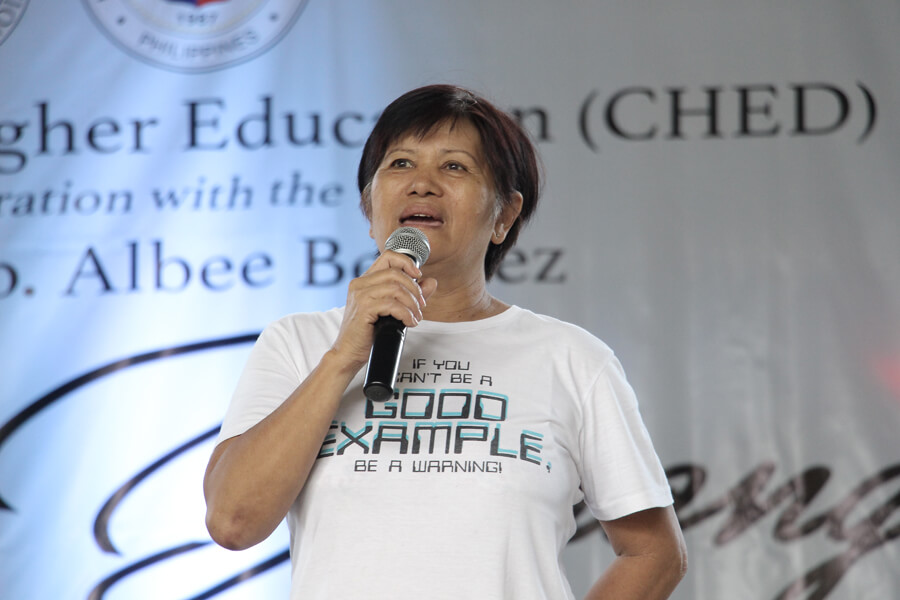 Mrs. Melina Monecillo of Barangay Lantad in Silay City, mother of an educational assistance beneficiary was not in the program but approached the organizers for a chance to thank Congressman Alfredo Benitez on stage. So Nanay Melina was called to say her brief pasalamat for the opportunity given her daughter, Angel who in 2015 graduated Cum Laude from STI-WNU with a degree in Bachelor of Science in Criminology.
Angel Monecillo is one of the more than 7,000 students from all over District Three in Negros Occidental who have successfully graduated from college under the educational assistance program of Congressman Benitez since his first term of office in 2010. Closely coordinating with the Commission on Higher Education (CHED), Congressman Benitez office is able to facilitate assistance for students enrolled in both public and private colleges in the District and in Bacolod City.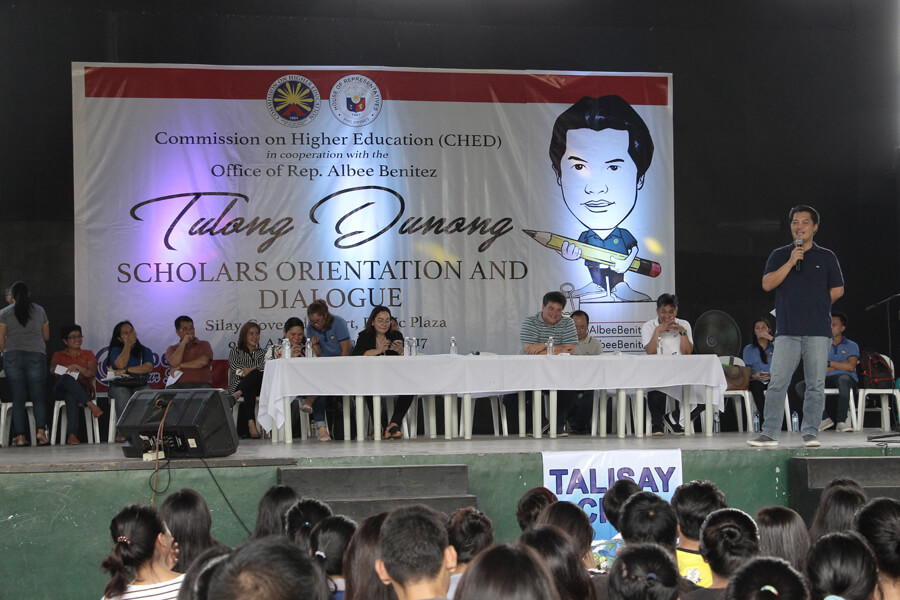 Last September 9 (Saturday), 2017 at the Silay City Plaza covered court, a total of 1,600 old and new grantees of the Tulong - Dunong Program met with Congressman Benitez for a dialogue and an orientation from CHED Region VI representatives on new guidelines of the program.
As the students met Congressman Benitez up close to extend their thanks, he reminded all the grantees to continue their studies seriously, graduate successfully and join the mainstream of productive citizens of the country. He also updated them of recent legislative initiatives to help strengthen the education system in the country – the implementation next year of free tuition in state universities and colleges and the installation of Wi-fi facilities in many public areas around the country that will boost the technical capability of Filipinos to cope with global trends.
CHED officials in the orientation were Cristy Laurente representing regional director Cesar Medina and Supervisor Ma. Karen Catalina Zaldivar.
Also present to be updated on the 2017 financial assistance guidelines are the scholarship program coordinators of Carlos Hilado Memorial State College in Talisay City; Central Philippines State University and Colegio de Sta. Ana in Victorias City; Silay Institute; University of St. La Salle, Colegio de San Agustin, Bacolod City College and STI-WNU in Bacolod City; and Bago City College.
Silay City Mark Golez welcomed guests and participants to the orientation and dialogue.*